Early Orthodontic Treatment for Kids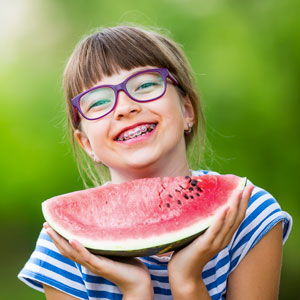 Orthodontics is not just about straightening the teeth. It is also about harmony between the teeth, jaws, face and smile. The advantages of early examination are that many of the problems can be picked up early and in some cases it reduces the need for orthodontic treatment. Crooked teeth and jaw size problems are evident from early ages, however children don't become concerned until they become socially more mature. The best time for assessment is around the age of 7 and the best time for treatment varies from 7 – 14 years old.
Some of the Benefits of having Orthodontic Treatment are:
Enhancing self-confidence by improving your appearance.
Healthier teeth when fixing crowding that allows adequate hygiene. Less cavities and less gum problems!
Better digestion by chewing food when your bite is corrected.
Reduction of stress on the facial muscles and jaw joints by correcting improper jaw relationships.
Some people even notice improvement to their speech when their teeth are aligned!
Treating orthodontic problems early may be less costly than the restorative/prosthetic dental care required to treat more serious problems that may develop in later years.
Each patient is different and deserve personalised attention. Your initial visit at Smiles First is an opportunity for us to get to know you and to help determine your orthodontic goals.
DISCOVER THE SMILES FIRST DIFFERENCE
Book an appointment with our warm and caring dentists today.
Personalised payment plans are also available. As always, new patients are most welcome.
Call us at 03 8772 2053 or make an appointment online.
BOOK NOW
Smiles First | 03 8772 2053
Dentist in Endeavour Hills, serving Narre Warren North, Narre Warren, Hallam & Lysterfield