Frequently Asked Questions at Smiles First
Below are some of the most common questions we are asked at the practice. If you have additional questions for us, please don't hesitate to ring us or book an appointment.
---
1. How often should I get a dental checkup and clean?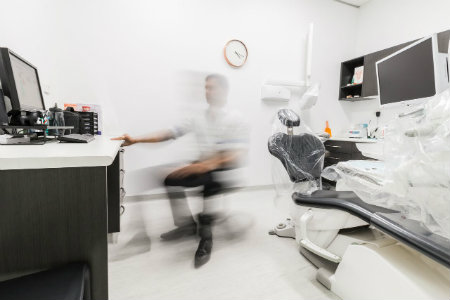 Because preventative dental care can keep your pearly whites healthy, we encourage you to come in every 6-12 months for a regular dental checkup and clean. If you are at higher risk of dental diseases such as decay and periodontal disease we recommend that you come in more frequently (every 3-4 months). Those at low risk for decay and gum disease can often visit once a year.
2. How often should I brush and floss my teeth?
To help maintain peak oral health, you should brush your teeth twice a day for two minutes — once in the morning and once at night, with care taken to be thorough but gentle. Just before you go to sleep is the most important time to brush your teeth.
To keep your gums healthy, it's recommended that you floss every day. If your gums become inflamed due to plaque or tarter build-up, they may bleed when flossing, often an indicator that you need to be flossing on a routine basis. Gums that are healthy are light pink and firm and should not bleed when flossing.
3. Are electric toothbrushes better than manual brushes?
If a manual toothbrush is used for the appropriate amount of time, and done with proper technique, it can perform just as well as a powered toothbrush. But many people don't brush for the recommended two to three minutes. Children are also good candidates for powered brushes as their brushing habits tend to be less than optimal. While everyone certainly does not need an electric toothbrush, in many instances they can be beneficial. Ask your dentist if you have any questions about which brush is best for you.
4. What causes bad breath?
While bad breath can be linked to numerous systemic diseases like diabetes, liver or kidney problems; the majority of bad breath originates in the mouth. Gum disease and plaque on tongue are very common causes of bad breath. A dry mouth or a low salivary flow can also influence bad odour. There are two main goals in the management of bad breath. First, controlling the bacteria that produce the sulfur compounds and second, to neutralize the sulfur compounds that are produced.
5. Can you see me if I have an emergency?
If you have a dental emergency, please call the clinic on 03 8772 2053 to request an appointment. It's our aim to organise our appointment book with openings reserved only for emergencies; however, these spots may fill due to varied demand. Rest assured that we will always endeavour to address your dental emergencies as quickly as possible. If the emergency is after hours or weekend, contact nearest doctor or hospital.
6. What happens if I cannot attend my appointments?
At SmilesFirst, we understand that even the best made plans can go wrong. Please contact the practice as soon as you can to arrange an alternative appointment. The appointment time has been allocated to you; other people may have been turned away. If you cannot make the appointment any more, please allow us time to offer it to someone else who may need it. We ask that you give us at least 24 hours notice when rescheduling an appointment or you may incur a cancellation fee.
7. What are dental sealants and why do my kids need them?
The Australian Dental Association recommends that kids receive dental sealants as soon as their adult teeth erupt. Dental sealants are a quick, easy, and relatively cheap solution for preventing cavities. They are thin coatings applied to the biting surfaces that help prevent bacteria and other debris from getting into the deep crevices on the teeth. Children's teeth tend to benefit more from sealants because these pits and groves tend to be deeper and less calcified then they are in adults. Kids are notoriously bad brushers and tend to ignore the problem areas in the back of the mouth that lead to cavities and decay.
8. My child has just broken or knocked out their tooth. What should I do?
If your child has had an accident, please contact the practice immediately. We understand that it can be very overwhelming, and will do our best to ensure that your child is seen right away.
If an adult tooth has been knocked out (avulsed), contact the practice immediately as time is of the essence. If you are unable to come straight down, try and place the tooth back in to the socket. The next best thing is to place the tooth in a cup of milk, do not rinse with water or wipe the tooth. We will see you as soon as possible. Once the tooth has been reimplanted, we will discuss any further treatment required.
9. How safe are dental X-rays?
At Smiles First, we only use digital X-rays, which reduces the radiation exposure by as much as 80% when compared to conventional dental radiography. You will be exposed to more background radiation in Australia in one week (approx. 38 uSv) from sunlight, flights etc, than you would in once panoramic OPG X-ray (approx. 11uSv).
Dental X-rays are beneficial in diagnosing small areas of decay between the teeth and under existing fillings; these are areas that we cannot see otherwise. X-rays also show us supporting jaw bone levels and any infection below the gum level and in the bone.
10. What options are available to help me cope with dental anxiety?
Because your comfort is always of utmost importance, our practice is equipped with a variety of sedation options to suit your individual needs. We offer nitrous oxide – Happy gas, to nervous and anxious patients to help them achieve their treatment goals which they deferred due to dental fear.
If you have other questions about dental care at Smiles First, we invite you to contact us today!
---
Smiles First | 03 8772 2053
Dentist in Endeavour Hills, serving Narre Warren North, Narre Warren, Hallam & Lysterfield