Meet the Dentists
Our dentists have been trained in general and specific areas of dentistry to take the best care of you. We will allocate the practitioner that best suits your needs.

Dr Sofia Monter, Dentist
BDSc (Hons) ADC Cert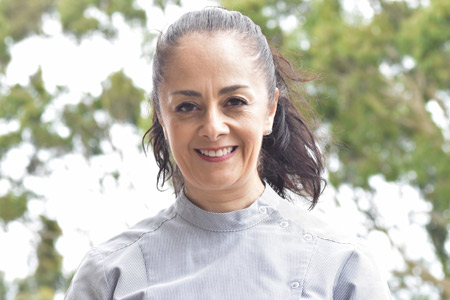 Dr. Sofia has been practicing general dentistry since 1989. She finished her Master's Degree in Orthodontics in 1992 from The Intercontinental University in Mexico and practiced orthodontics for 8 years before moving to Australia in 2001.
In order to be accredited in Australia, Dr. Sofia successfully presented the Australian Council examination with a major distinction as the most outstanding female candidate awarded by the Victorian Dental Women's association in 2007.
Since then, Dr. Sofia has attended numerous seminars and conferences, including a 2 years Mini Residency in Orthodontics at EODO in Sydney.
Dr. Sofia has a special interest in Early Orthodontics that allows to pick up on dental problems and bad oral habits at an early stage and treat them to prevent major issues later on. She has also been accredited as an Invisalign provider and has a vast experience on Orthodontics with braces for teenagers and adults.
Dr. Sofia is very passionate about what she does and she also finds time for her other passions: her family, traveling, going out and making friends.

Dr Darshan Thumar, Dentist
BDSc, ADC Cert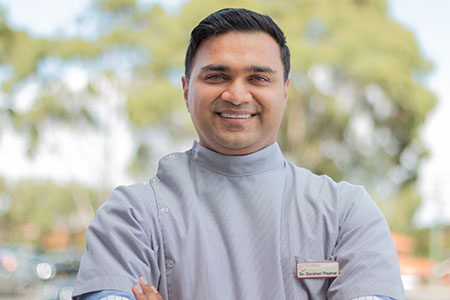 Dr Darshan qualified as a general dentist in 2007 and enjoys cosmetic and restorative work. He is able to produce aesthetic dental restorations since he developed his hand skills at a very young age, when he started to paint and sculpt.
Dr Darshan has also been nurturing his special interest in orthodontics for many years by keeping himself up-to-date with new developments in the field through attending educational courses and seminars. He strongly believes in early intervention for kids developing crowded teeth and bad habits. He is accredited Invisalign provider and loves working with braces for teens and adults.
He received his Fellowship in orthodontics from the International Association of Orthodontics and is a member of the Australian Dental Association .
He is a caring and compassionate person and besides painting, he loves music, cooking and travelling with his family.

Dr Edelmiro De Hoyos, Prosthodontist
BDSc, MSc, PhD
Edelmiro (Dr Miro) holds a PhD in Prosthodontics which is the specialised area of dentistry that deals with extensive and more complicated cosmetic and restorative treatments such as veneers, crowns, bridge, implants and partial and full dentures.
Dr Miro is a clinical demonstrator at University of Melbourne and at La Trobe University, and he is also the Chairman of the Metropolitan ADA metropolitan group K.
He is a very gentle and caring dentist, and outside dentistry Dr Miro loves playing Golf and bringing up his young kids.

Dr Claudia Beltran, Dentist
Dental Surgeon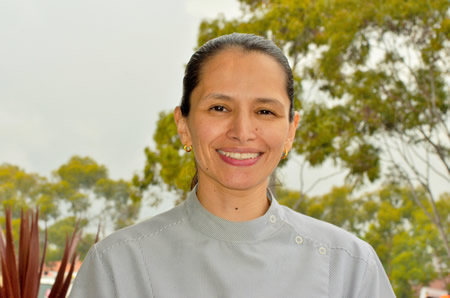 Dr Claudia is a registered general dentist with a particular interest in Oral and Maxillofacial Surgery. Upon completion of her master's degree in Columbia, she established her private practice providing a full range of surgical services to patients. She was also engaged by Xavierian University as a head of Emergency Dental Department as well as a lecturer in undergraduate and Oral and Maxillofacial surgery master programs.
Training with the specialists in this field, Dr Claudia had the opportunity to travel to Portugal and accomplished the clinical residency from the creator of the All on 4 concept. She has been practising it in Australia since then.
Dr Claudia is member of ITI (International team for implantology), ICOMS (international conference of oral and maxillofacial surgery) and ACCOMF (oral and maxillofacial association of Columbia).
Dr Claudia combines her surgical skills, knowledge and experience from all aspects of her training to perform various surgical procedures such as implant surgery, jaw and soft tissue surgery, extraction of wisdom teeth and treatment of facial trauma. But most importantly, Dr Claudia regards her compassion and attention to her patients needs as her greatest asset for providing optimal dental care.

Dr Michael Looi, Dentist
BDSc, MDent
Dr Michael is a qualified general dentist and completed his Bachelor of Health Science/Masters of Dentistry at Latrobe University, Bendigo. He has experience working in a number of regional towns in Victoria, as well as metropolitan Melbourne.
Michael strives to provide long lasting and comfortable treatment for each and every patient. He believes firmly in educating each of his patients to ensure they are able to make informed decisions about their oral health and help prevent new problems from occurring.
When he's not working you'll find him out at a cafe during the colder months, and when the weather is warmer he'll be outdoors or on the golf course despite his lack of talent.

Quor-ten Teh
Oral Health Therapist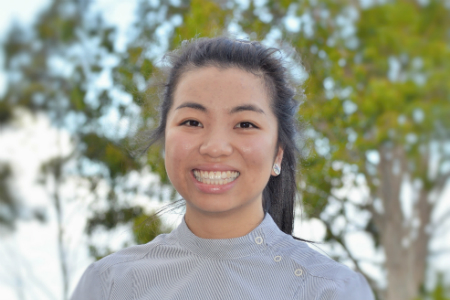 Quor has qualified from La Trobe university in 2013 and has been working in Public Community Clinics.From a young age Quor has always been creative and artistic. Together with her love for working with children, being fascinated by the health science and wanting change peoples smiles – oral health was the perfect pathway.
Quor is a keen advocate for minimal intervention restorative methods and have a strong focus on prevention and early intervention techniques. she strives to make each dental visit both educational and enjoyable, especially for kids – that they can feel happy and proud of their healthy smiles. Quor is part of ADOHT association and has been in educator at La trobe university in Bendigo.
Quor has a big heart for community volunteering and overseas missionary projects. She is a keen sports and outdoors enthusiast and also enjoys her cooking adventures as well as playing guitar.
Quor enjoys building relationships and creating positive experiences with children to help make their visit the positive experience it should be.

Shai-Lee Kennedy
Dental Hygienist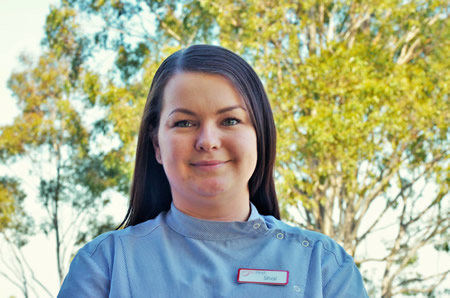 Shai began her career in dentistry as a dental assistant in community dental practice in Bentleigh in 2008, meanwhile gaining both her Certificate III and Certificate IV (dental radiography) in Dental Assisting from RMIT.
This is where Shai found her love for being involved in the community to improve the oral health of adults and children alike. Shai felt that continuing her studies as a dental hygienist came very naturally and was looking forward to further her opportunities to lessen the burden of disease and provide oral health education and treatment. while doing her Advanced Diploma of Oral Health at RMIT Shai maintained a part time dental assistant position at a private dental clinic and then once she graduated she was able to obtain position as a Dental Hygienist there.
As a Dental Hygienist Shai likes treating all patients in a holistic manner to obtain not just better oral health but overall health. In particular she loves to treat children, adults who suffer from periodontal disease and she has an ever-growing passion for preventative treatment within orthodontics and sleep apnoea assessments.
Shai is a member of the Australian Dental Hygiene Association and wishes one day to teach Dental Hygiene to new prospective students.
In her spare times Shai raises her young family and enjoys attending sports events and travelling.

Dr Isabelle Seow
BHSc, MDent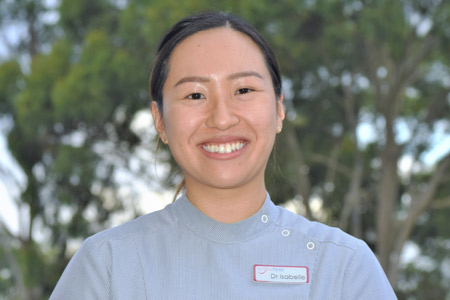 Dr Isabelle Seow has attained a Bachelor of Health Sciences in Dentistry and Masters of Dentistry from La Trobe University. Prior to joining Smiles First, she spent two years serving in community clinics across regional Victoria including in Bendigo, Ballarat and Melton. Now she continues to work in private practice throughout the Melbourne suburbs. Isabelle has a passion for seeing patients of all ages to achieve confident and healthy smiles.
She strives to achieve the best outcome for every patient whilst ensuring they are having a comfortable experience in the chair. Isabelle understands the often anxious nature of a dental visit and so adopts a gentle and caring approach for treating nervous patients. She enjoys all aspects of dentistry, particularly preventative and restorative dentistry (crown and bridge work) and paediatric dentistry.
On the weekend, you can find Isabelle catching up with family and friends over a coffee. She
also has a keen interest in baking and enjoys travelling, as well as joining weekly netball games and gym classes in her spare time.

Dr Hitesh Navani
BDSc (Hons), FRACDS, DClinDent (Endo), MRACDS (Endo)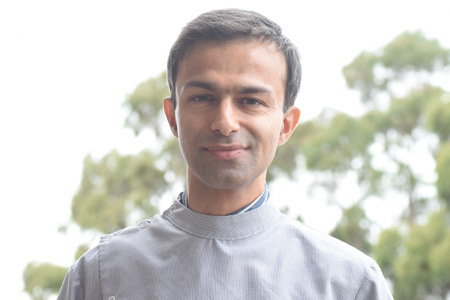 Registered Specialist Endodontist
Dr Hitesh Navani graduated with a BDS (Hons) in 2007 from Melbourne University. After excelling in the Primary examinations with the Royal Australasian College of Dental Surgeons in 2012, he gained his Fellowship with the RACDS in 2014.
Hitesh graduated with a Doctor of Clinical Dentistry (DCD) in the discipline of Endodontics in 2017, from the University of Otago, New Zealand and was awarded a University of Otago postgraduate scholarship for academic proficiency at a Doctoral level. In that year, he also became a Member of the RACDS in the discipline of Endodontics. He is a current member of the Australian Society of Endodontology and the Australian and New Zealand Academy of Endodontists.
Hitesh has been extensively involved in teaching both undergraduate and postgraduate dental students since 2013, both in Australia and in New Zealand. He also served as an examiner to overseas-trained dentists (New Zealand Dentist Registration Examination) in 2016.
When Hitesh is not treating patients, he ardently follows tennis and can be caught camping
outside Melbourne Park in a last-ditch attempt to secure tickets to the Rod Laver Arena! Additionally, he enjoys fine dining and loves to travel.

Fore more helpful information about your child's first visit, Contact us and we'll send you the facts; The DO's and DON'Ts of Children's Dental Visits and how they can overcome the fear of the dentist.
DISCOVER THE SMILES FIRST DIFFERENCE
Book an appointment with our warm and caring dentists today.
Personalised payment plans are also available. As always, new patients are most welcome.
Call us at 03 8772 2053 or make an appointment online.
BOOK NOW
Smiles First | 03 8772 2053
Dentist in Endeavour Hills, serving Narre Warren North, Narre Warren, Hallam & Lysterfield